We redesigned Eventgroove Events
Our entire system got a major upgrade in 2022, and we're excited to share it with you
A whole new event experience
(Coming January 9, 2023)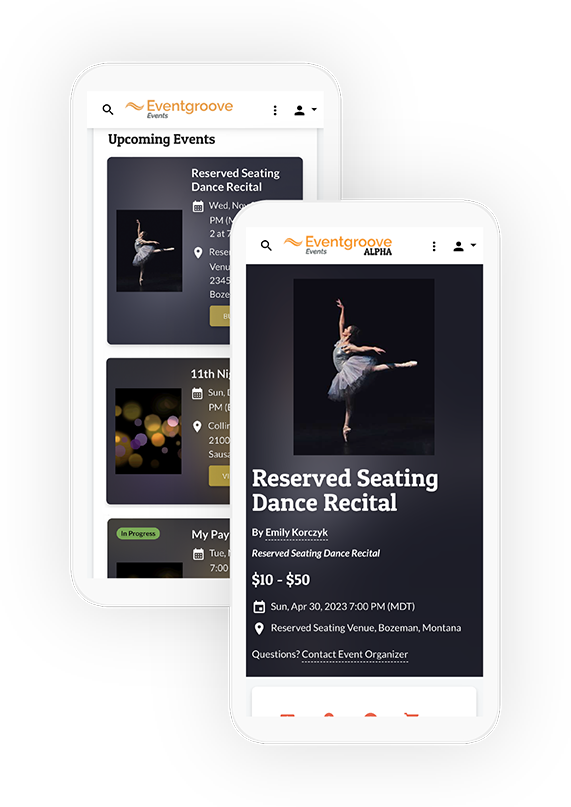 Device
Continuity
Information on your event page now appears in different tabs on both desktop and mobile.

Event
Browsing
Each event listing now appears as a card, including the image, event name, date, time and location.

Improved
Search
Find search filters for category, state, year, and proximity all in the same place.

Updated
Labels
Not selling tickets? Now you can use a different word, like 'registrations', 'passes', or something else.
Device Continuity
On the new event page, information regarding your event is displayed in different tabs, which ticket buyers can use to navigate the page and learn more about your event.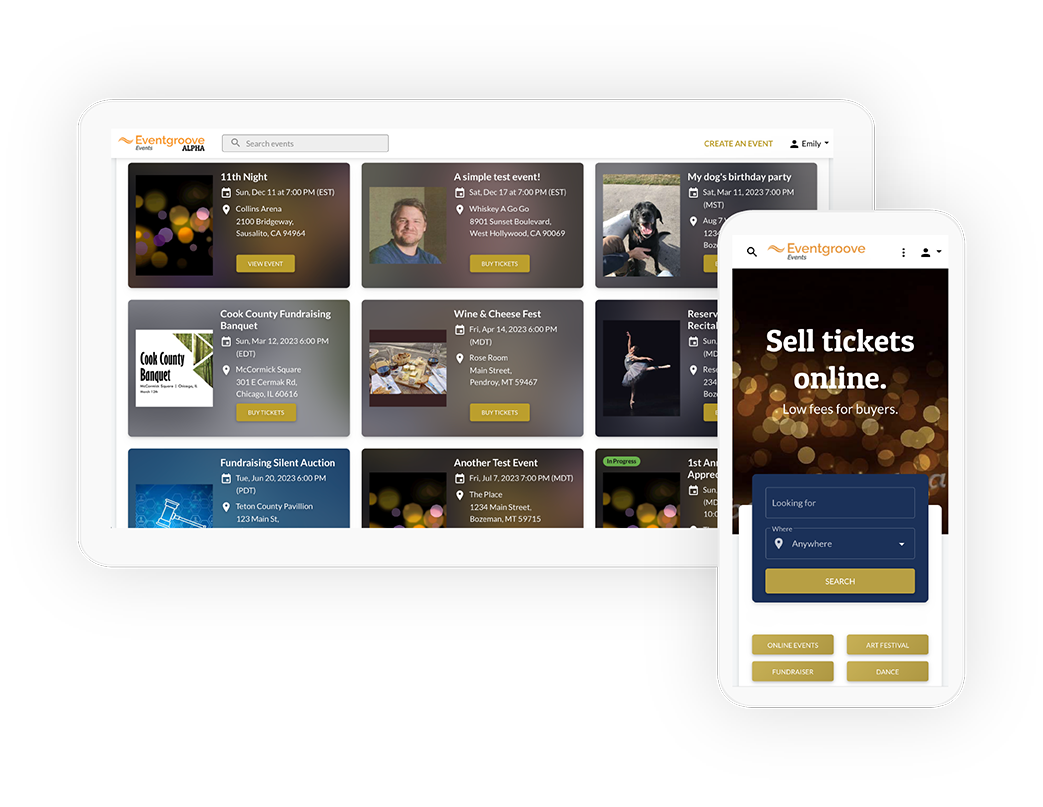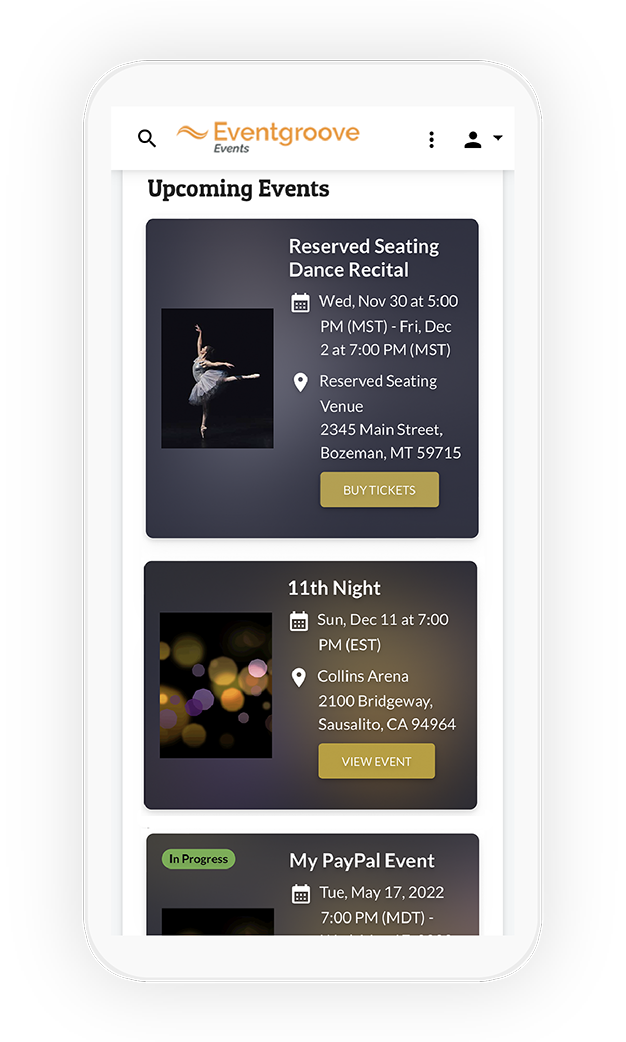 Event Browsing
On the various browsing pages, you'll now see each event displayed as a card. Each card includes the event name, date, time, location, image, and a button to purchase tickets. You will also notice there is only one image upload for your event. We will automatically use the image you upload to generate a background banner.
Improved Search
On the event browsing pages, there are various filters to help you hone in on the event you're looking for. Use the category buttons, or dropdown filters for state, year, and proximity to search for events.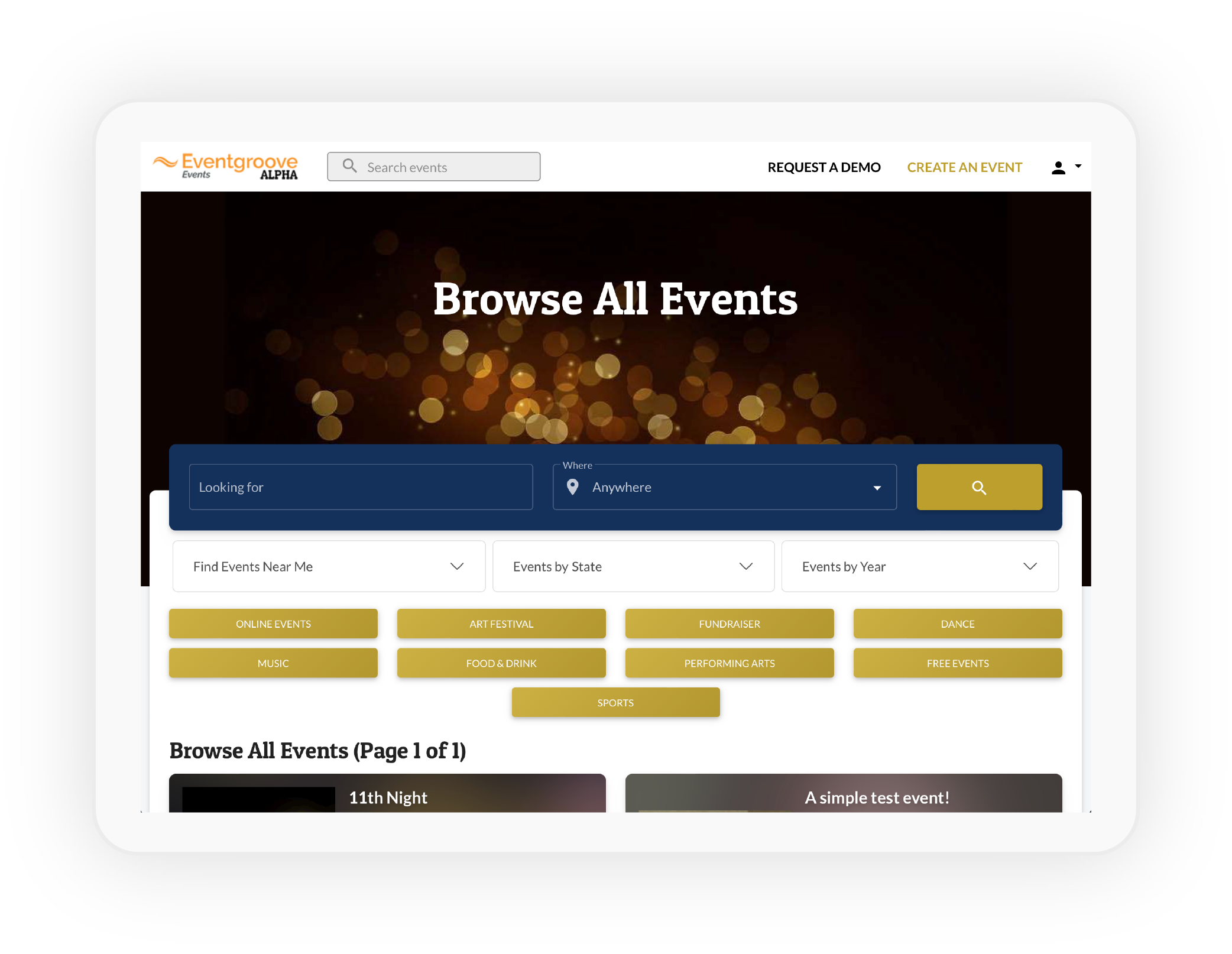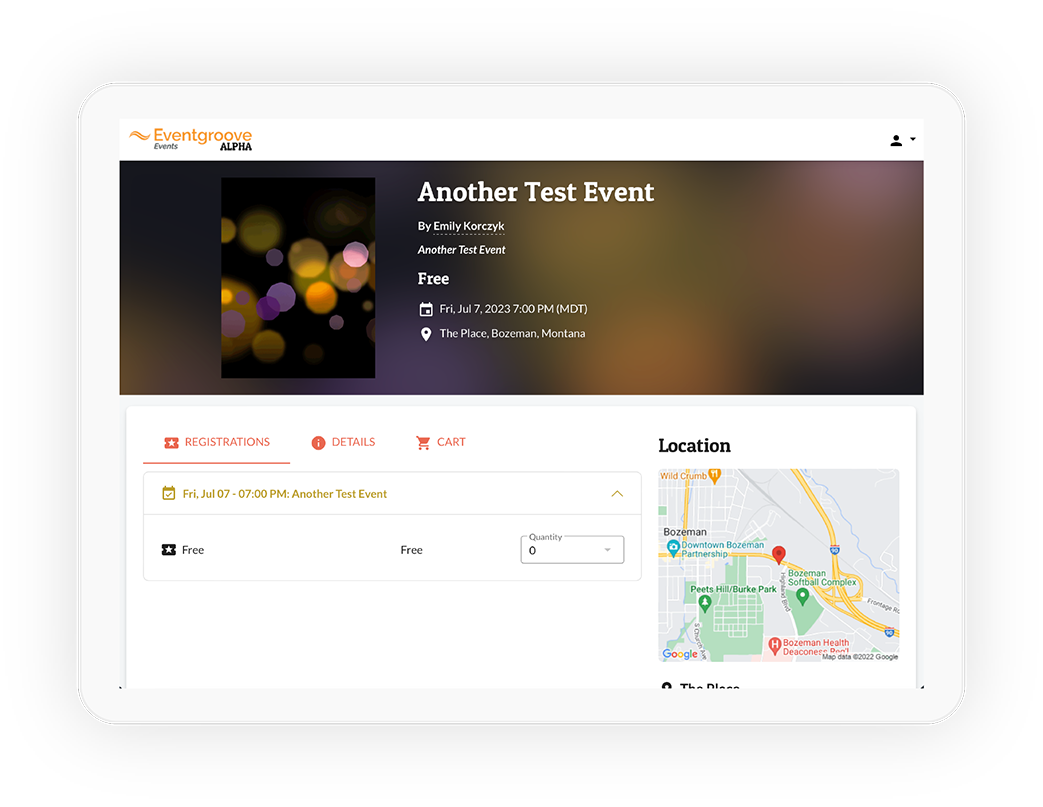 Updated Labels
Not selling tickets to your event? Are users registering instead? Now you can update the language that appears on the page. In the event wizard, in the Tickets tab, simply input an alternate label, and your new label will appear anywhere where 'Tickets' usually appears.
We also updated our sign in and contact pages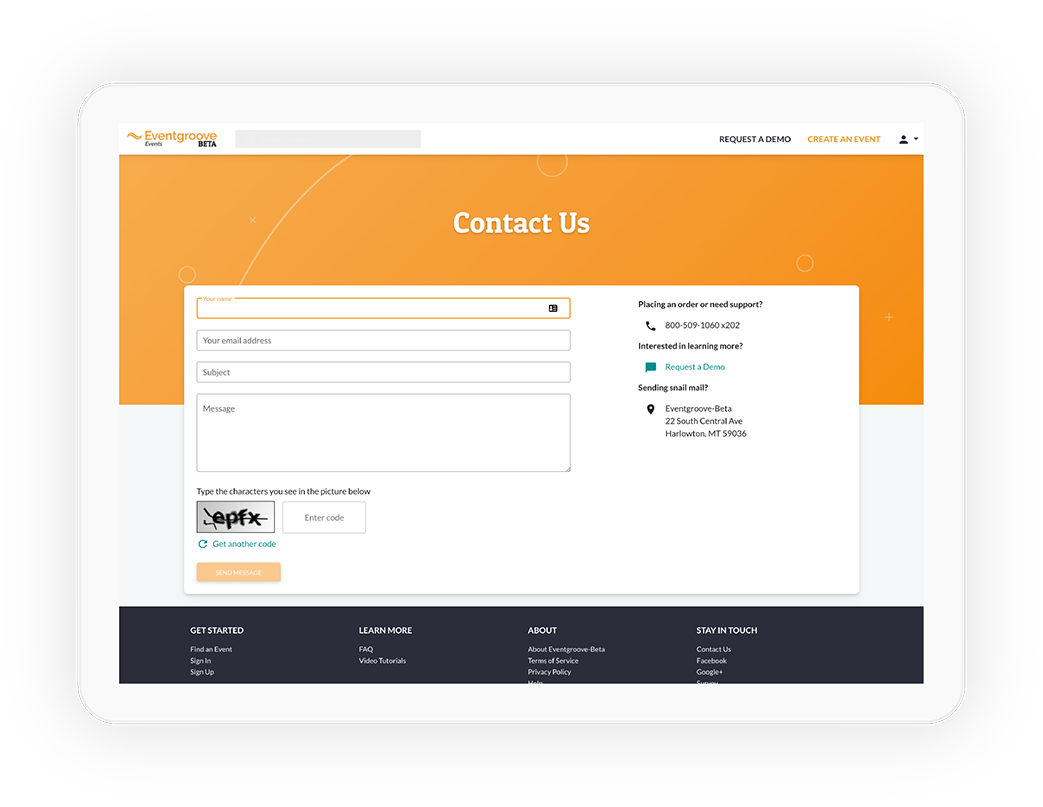 Need a refresher on the first phase of the redesign?
Below are details of our release from October 2022.
What's new in the dashboard?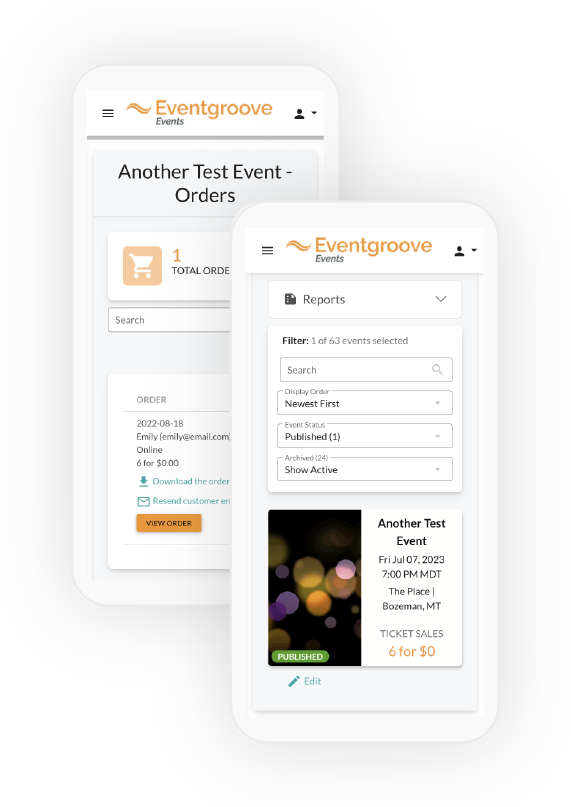 Improved
Navigation
Consistent navigation across all pages so you'll always be able to find what you need.

Mobile
Optimized
We designed for mobile first! So using your phone on the new site will be super slick.

Unified
Dashboard
One dashboard that does it all across all your devices.

Multi-User
Access
Clear context to indicate whose events you're working on.
Improved Navigation
All of the event management pages are now under a single consistent navigation system. There's an ever-present drop-down menu in the header, a context-sensitive menu on the left (that may be hidden to give you more room to work), and a set of information-oriented links in the footer.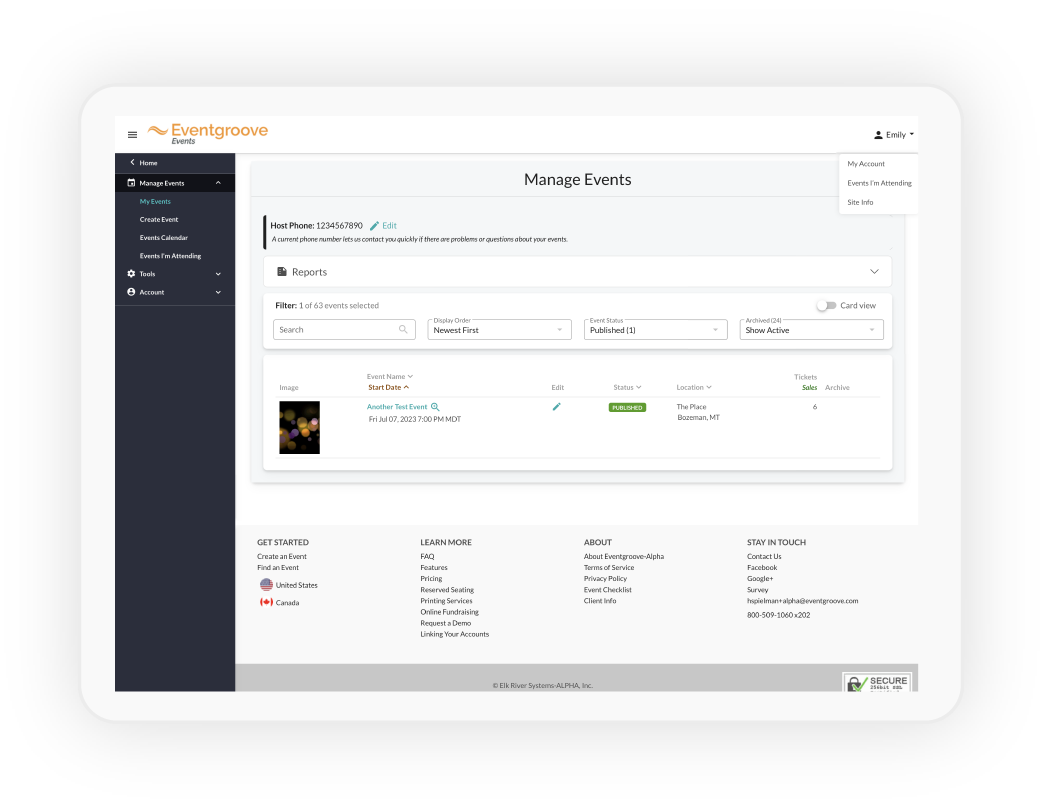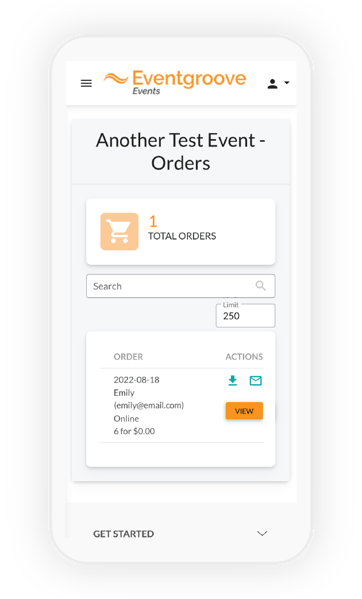 Mobile Optimized
We've put a lot a thought into making each page work as well on mobile devices as it does on a desktop or laptop computer. So mobile users should expect a much better experience with the redesigned site, and no longer run up against features that only work on large screens.
Unified Dashboard
As the Eventgroove system evolved from a desktop-only system when it first launched (way back in 2009) to one that supported mobile devices, we added features and support for mobile incrementally. That's how we ended up with a Desktop Dashboard and a Mobile Dashboard. While they had a lot of overlap, there were some features that were only available in one or the other.
Now we're back to just one Event Dashboard for all devices – and it covers all the features.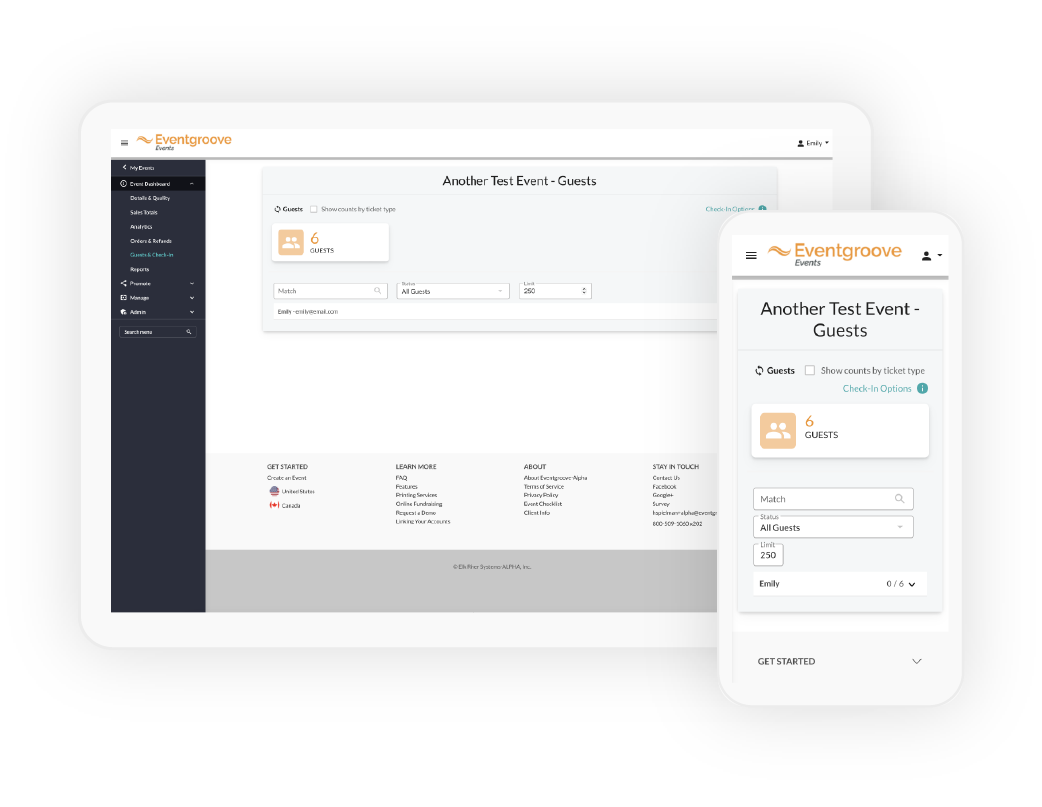 Reports
The many reports for events, orders, guests, tickets, and contacts used to be located on various pages throughout the system. Again, this was a result of their being added incrementally over time. We've consolidated them all on a new Reports page in the dashboard, so hopefully you'll spend less time searching for the report you want.
Reserved Seating
If an event uses Reserved Seating, the Event Dashboard menu will reflect that by adding a section to handle all the actions related to managing a seating layout.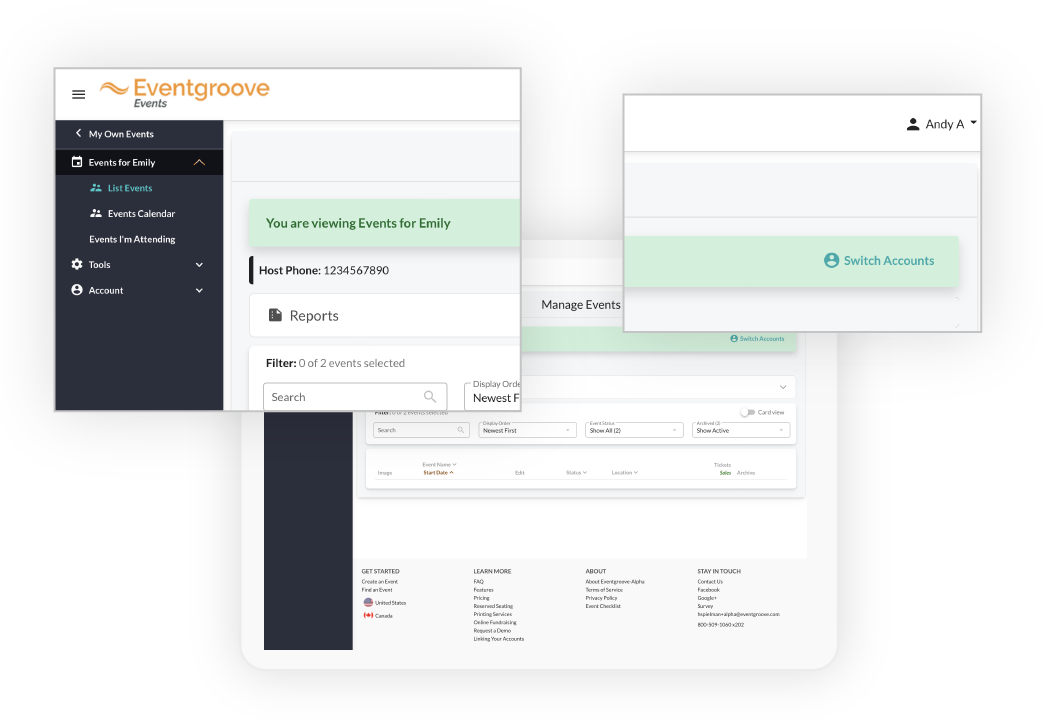 Multi-User Access
Multi-User Access provides a means for event hosts to authorize other users to carry out some event management actions on their behalf.
Previously, the means for the "delegate" to do so was enabled only from the Multi-User Access page, which contained a set of links enabling their authorized actions.
Things will be simpler under Multi-User Access, as the menus adjust to reflect the context of the Event Host for whom the delegate is acting. Actions initiated from the menus will apply to that Event Host until such time as the delegate returns to "My Own Events" – or begins acting on behalf of a different event host.
The icon next to each menu item indicates that the action will be applied on behalf of the event host who granted the authorization.