Our Philosophy

TicketPrinting.com's purpose is to help make our communities, schools, and world a better place. How? Offer all nonprofits & schools 10% off for all orders all the time. We are here to help!

$2.1 Million in discounts
$509,000 in donations
$2.1 Million in Discounts
We've given over $2.1 Million to nonprofits & schools in discounts. That's $2.1 Million

going back to communities to help causes, nonprofits, and schools of all types!

We've also given over $509,000 in donations.
To redeem your 10% off, simply enter your EIN (Federal tax id number) during checkout like this: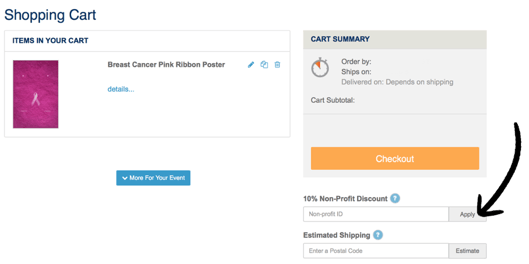 Your nonprofit id is a Federal Tax ID number belonging to an organization that has been classified as tax-exempt.

It is a 9 digit number that contains only numbers.

Acceptable formats for this number are 123456789 or 12-3456789.
I am a first time user of Ticketprinting.com and wanted to tell you what a good experience it was. I ordered generic raffle tickets for a first time dog rescue fundraiser. It was fast, simple and the selection of styles quite extensive! You allowed for non-profit discount and I also found that you provide free samples; I ordered the kit that includes wrist bands, flyers, tickets, etc. as I plan on ordering wrist bands as well as posters from you. Fast, accurate service available 24x7 with free samples. Thank you for providing this service so expertly on my first order. Expect more to come!
Rosalie Landt The Dog Rescue A Go-Go
[fa icon="quote-right"]
When I made the decision to take a chance and have our event tickets printed by an online site, I was very scared that I would be wasting our hard earned money.

I can't tell you how pleased I am with our order. They are exactly what we wanted. I will be sharing your site with my friends when they need any printing done.
Gale Ennis The Cynthia A. Carano Memorial Fund
[fa icon="quote-right"]